Fabric conditioner is a secret weapon that can transform laundry from a chore into a sensory experience. It leaves clothes feeling soft and smelling great while protecting fabric fibers. We bring you the best tips on how to use fabric conditioner, with expert insights from sof & mmmmm, the bestselling fabric conditioner from Personal Collection Direct Selling, Inc.
What is a Fabric Conditioner?
Fabric conditioner, also known as fabric softener in the Philippines, is a product added to washing machines during the rinse cycle to make clothes feel softer, reduce static cling, and impart a fresh fragrance. It protects clothes from wear and tear and can make ironing easier.
Why Choose sof & mmmmm Fabric Conditioner?
Sof & mmmmm offers an exciting range of fabric conditioners that cater to specific fabric needs. With five standout variants – All-time Fresh, All-day Radiance, Evermore, Eternity, and Naturals – you can enjoy unique features like germ-killing technology, color-protection and whitening, fabric protection and longevity, biodegradable formula, and perfumed micro crystals for long-lasting scent. Plus, every variant comes in biodegradable packaging, showing sof & mmmmm's commitment to sustainability.
How to Use Fabric Conditioner: The Basics
Using fabric conditioner is easy. For most washing machines, there will be a specific dispenser where you can add the fabric conditioner at the start of the wash cycle. The machine will dispense it automatically at the final rinse cycle so you don't have to think about it. If your machine only has one dispenser for the detergent and softener, you will have to add the fabric softener during the final rinse.
Here's a step-by-step guide:
Begin by reading the label of your fabric conditioner. Each brand, including sof & mmmmm, has a recommended amount to use per load size. The size of the load and the type of fabric can also affect the amount of conditioner you need.
Pour the recommended amount of fabric conditioner into the dispenser. More isn't always better when it comes to fabric conditioner. Overuse can make clothes feel slippery or overly perfumed. On the flip side, using too little may not give you the desired freshness and softness.
Add your clothes to the washing machine and start your wash cycle. The machine will automatically add the fabric conditioner at the appropriate time in the rinse cycle.
How to Use Fabric Conditioner: The sof & mmmmm Way
Sof & mmmmm's different variants each have unique features that benefit your laundry in different ways. Let's take a look:
Eternity
Immerse yourself in the luxurious, long-lasting scent provided by the Perfumed Micro Crystals. This is a good choice for clothes you'll be wearing all day.
All-time Fresh
This variant has Germtec technology, designed to kill 99.99% of bacteria for up to 48 hours, providing you with fresh, clean clothes for longer. It also has Perfumed Microcrystals that release scent throughout the day. It's perfect for clothes that you wear daily, like office wear or your children's school uniforms.
All-day Radiance
The All-day Radiance option, with Opticlite Plus Technology, helps protect fabrics so whites stay white and bright colors stay vibrant. This is ideal for colorful clothes and white fabrics.
Evermore
It keeps fabrics from stretching, fading, and wrinkling thanks to Fibersoft technology. Perfect for clothes that you want to last longer.
Naturals
Made with biodegradable ingredients and 100% natural essential oils, it soothes and relaxes with Relaxiwaves long-lasting fragrance. Perfect for people with sensitive skin or who prefer natural products. It's also the responsible choice for environmentally-conscious users.
Actually, all of these sof & mmmmm fabric conditioner variants come in biodegradable packaging, which not only keeps your clothes fresh and clean but also cares for our planet. This is a big part of Personal Collection's noble purpose to make the world a better place by using biodegradable formulas and packaging.
Best Practices for Using Fabric Conditioner
Here are some tips for getting the best results with your sof & mmmmm fabric conditioner:
Don't pour fabric conditioner directly onto clothes. Always use the dispenser of your washing machine. If you're handwashing clothes, mix it first with the final rinse water before adding the clothes.
Don't use fabric conditioner on all clothes. Avoid it on sportswear or flame-resistant clothing as it can reduce the effectiveness of certain fabrics.
Try different sof & mmmmm variants for different laundry loads. You might find you prefer one scent for bedding and another for clothing.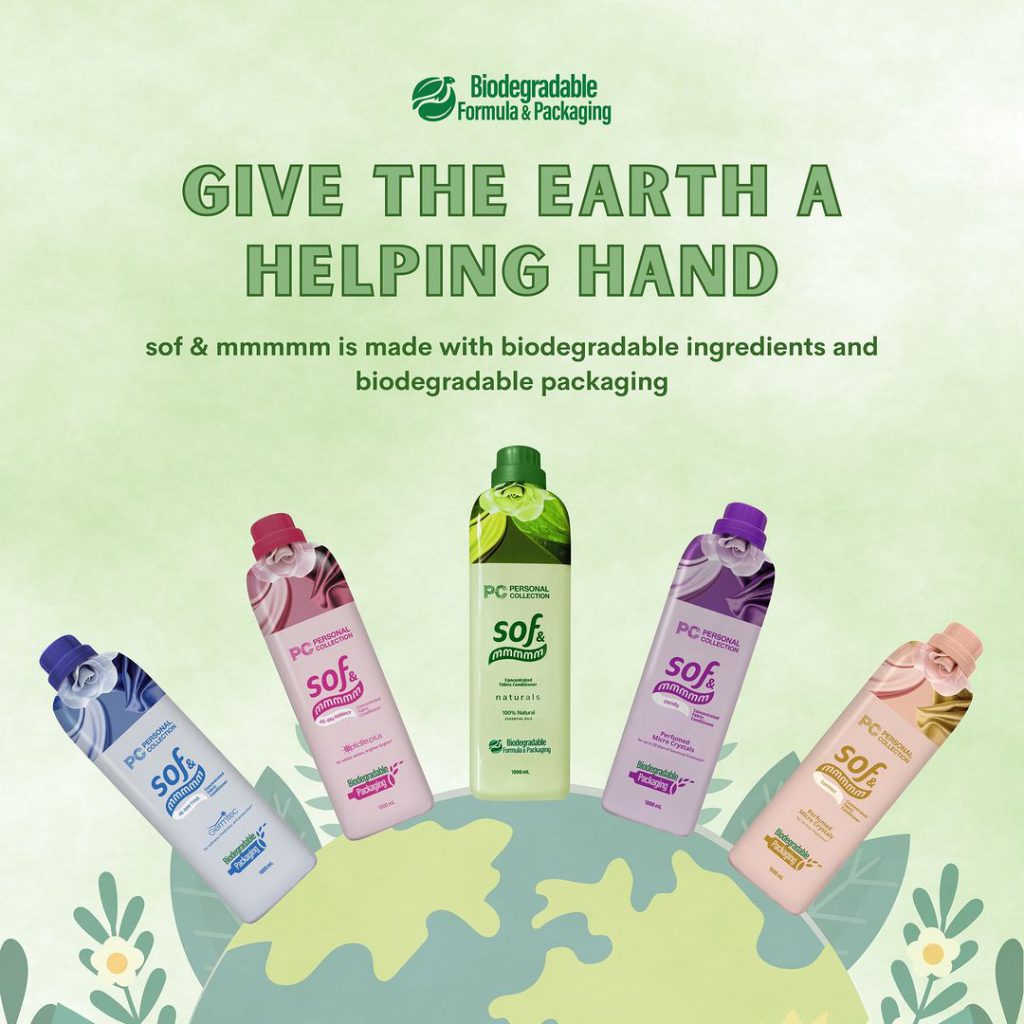 After the Wash: Proper Drying
After washing and rinsing with your choice of sof & mmmmm fabric conditioner, it's time to dry your clothes. Proper drying can enhance the effects of the fabric conditioner, especially when it comes to scent. Air-drying or drying under the sun can give your clothes a fresh, natural smell and feel.
We hope this ultimate guide on how to use fabric conditioner helped you! Transform your regular laundry routine into a luxury experience with sof & mmmmm. With its range of conditioners, you can select a variant that suits your specific needs, making your clothes look, feel, and smell great, while also contributing to a more sustainable environment. So go ahead, unlock the magic of your fabric conditioner, and give your clothes the care they deserve.
Remember, a good day starts with clean, comfortable clothes, and sof & mmmmm from Personal Collection is here to make every day a great one!
Register to be a PC dealer and get 25% discount when you buy sof & mmmmm!